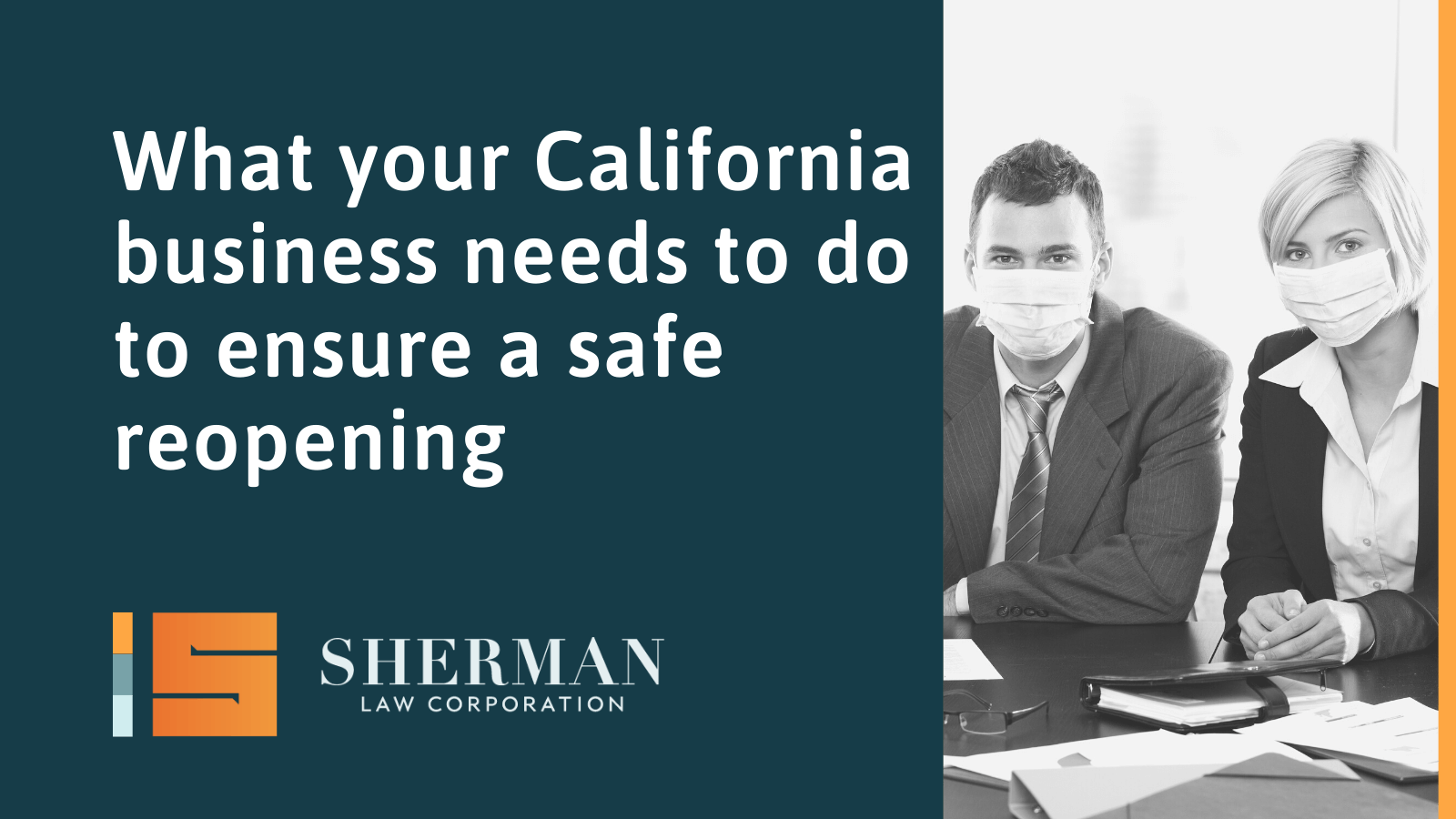 California Governor Gavin Newsom began reopening the state and allowing businesses to return to in-office work in a phased approach from the COVID-19 shutdowns and stay-at-home orders. To aid businesses in reopening safely, the state issued the COVID-19 Employer Playbook For a Safe Reopening. 
The 32-page playbook details the following key areas of information for employers:
Industry-specific guidance and checklists

Action plans for a workplace COVID-19 case

Educating employees on COVID-19 prevention
Let's take a deeper look into each of these main areas of the Playbook and how your company can plan for a successful return to in-office work.
Industry-specific guidance and checklists
Before you can reopen your California business for in-office work, you must complete these six steps. 
Complete a risk assessment and COVID-19 prevention plan for your business.

Ensure all employees are educated about how they can limit spreading COVID-19 within the workplace.

Implement control measures and screenings to prevent sick workers from entering your facility.

Establish disinfection protocols.

Create social distancing guidelines for your staff and building visitors.

Enforce the

California Department of Public Health face-covering guidance

within your office. 
The state offers in-depth guidance and checklists for many industries to aid you in completing these six important steps to returning to work safely.
Action plans for a workplace COVID-19 case
Even with the best preparation and reopening plan, your company might experience a case of COVID-19 with someone on your staff or a visitor to your facility. And if that does happen, you need to have a plan for what to do next to mitigate the risks of an outbreak at your facility.
Know your local health department's guidelines for when to communicate with them about a positive case and what their guidelines are for the next steps after confirming a case. Each local health department within California has slightly different rules.

Communicate the positive case of COVID-19 to all workers who were potentially exposed, but keep the sick employee's identity confidential. 

Ask those who had close contact with the sick person to stay home for 14 days and monitor for symptoms. 

Offer workers who are sent home instructions about when to contact their providers, information on local COVID-19 testing sites, when they can return to work and relevant sick time information.

Have a plan for how to get in touch with contract or temporary workers who are hired through a third party. This might mean collaborating with that third party on communication plans.

Follow your local health department and the

CDC guidelines

for a safe return to work for the sick employee and for those who had close contact with that employee.
Additionally, you should review your job-protected leave under state and federal laws. Employees might be protected to take up to 12 weeks off while sick or caring for a sick loved one. COVID-19 qualifies as a serious health condition in cases where the sick person needs in-patient care or supervision from a medical professional.
Educating employees on COVID-19 prevention
Before you can welcome your team back into the office, you must educate them about COVID-19 and ways they can prevent the spread of the virus. Explain how the virus spreads, common symptoms and prevention measures that limit the spread.
One of the most important aspects of your employee education is that it must explain clearly what employees should do if they have any of the virus symptoms. Instruct them to contact a manager even if symptoms seem mild and to remain at home and self-monitor before returning to work. 
Additionally, teach your team sanitization practices, such as frequent hand washing and sanitation, wiping down surfaces, coughing or sneezing into their elbow to contain the droplets they emit, avoid touching their eyes, nose and mouth. They should also limit their use of high-touch surfaces, such as elevator buttons, door handles and handrails.
Employees should avoid non-essential travel to avoid bringing the virus back to the workplace and try to minimize handling cash, credit cards, and electronic devices when they cannot sanitize these surfaces regularly.
All workers must wear a cloth facial covering while in public places, including inside of your office building. There are some exceptions to this rule for children ages 2 and under and individuals with pre-existing conditions where a facial covering could pose a risk to their health. 
As part of your COVID-19 education plans, you should instruct your employees about your sick leave and state and federal leave policies. You want your employees to know that staying home while sick is what's best for everyone and that you'll stand by them where you can.
Sherman Law Corporation offers employment law services and workplace-related counsel. Contact us to set up your free consultation to discuss your California employment law needs.